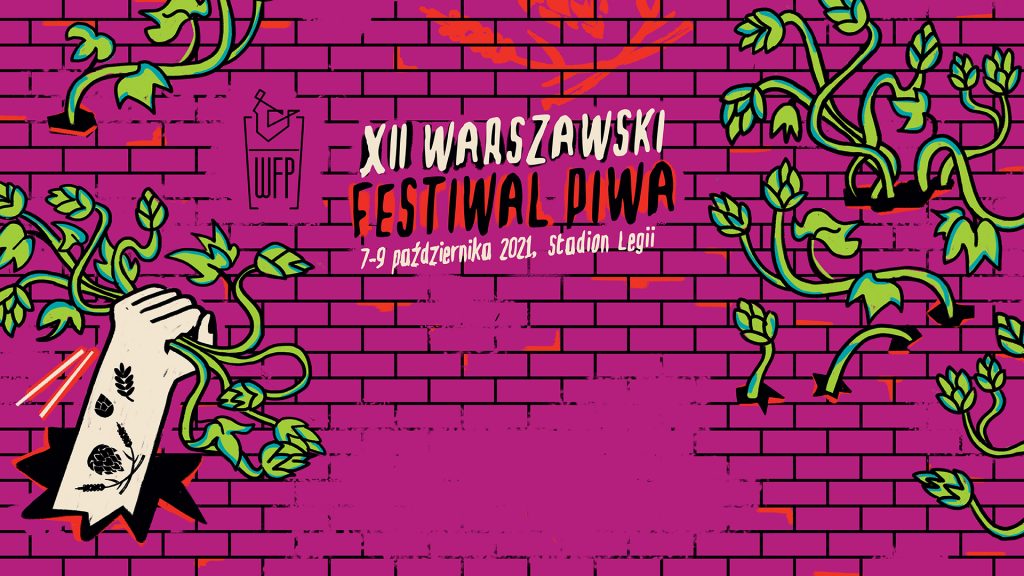 The Warsaw Beer Festival is organized twice a year, every spring and autumn. It takes place at within the covered VIP area of the Legia Warsaw Municipal Stadium in the heart of the Polish capital. Each edition gathers around 20 000 participants for a three-day-long event. Because of the limited space, we are able to present only around 60 of the very best Polish craft breweries (neither corporations nor big market players are allowed).
But the Warsaw Beer Festival is not only about beer: we've prepared many other attractions such as the best Polish food-trucks, table football tournaments, pinball machines, specialized lectures, tasting sessions, discussions and truly a lot more. You can spend the whole weekend on the stadium experiencing the incredible atmosphere and meeting great people. And most people do more…
12. WARSAW BEER FESTIVAL
7-9 October 2021
Legia Warsaw Stadium
11th EDITION OF THE WARSAW BEER FESTIVAL
HOW TO GET
The Legia Warsaw Stadium is in 3 Łazienkowska Street in the Śródmieście (Downtown) district of Warsaw. It's really easy to get here, because there are many buses coming from all parts of the city that stop in close vicinity of the stadium more…
PROGRAM
You can find the full list of lectures, training sessions, tastings, competitions – and more! – on our website. Those that will take place in English are marked as such. The list may change slightly in the course of works on the upcoming edition of the festival.
FAQ

Are festival days different from each other?
Thursday
That's beer geek day! It's for those that are ready to take time off work to be the first to try all the new beers. With everyone rested, it's also the best time to chat with the brewers.
Friday
That's when we all become one and the stadium becomes a giant party pub! It's when the brewers really to try to show off and present their best beers and snacks. It's all about great people and great atmosphere!
Saturday
Much slower – great for hanging out with your family. Some beers will already have been finished off, but hey! you'll still have around 400 others to choose from.
Info from warsawinsider.pl
Bring your mates and find the beer of your dreams that makes your taste buds go crazy. Think of it as a game: you have limited time, limited resources, and dwindling control of your senses. Don't drink excessively, but explore. Talk to people: staff, other guests etc. Let them become your guides on this epic quest!
Info from warsawinsider.pl
Big queues suggest something unique that's unavailable elsewhere. Will it be worth it? Well, that depends on personal taste, but those people aren't standing in line just for the sake of it. Here's a useful tip: queues move a lot quicker when you're already holding a beer!
Info from warsawinsider.pl
Don't do anything you wouldn't do in a normal pub. Really, it's nothing different from real life: trust your instincts, be nice to others, have fun and don't make things hard on yourself by being an asshole.
Info from warsawinsider.pl
Plastic ain't cool! We've got a limited number of special edition handmade glasses that haven't just been designed to look good, but also bring out the fruity, hoppy aromas in a beer. Remember, rinse your glass before the next beer.
Info from warsawinsider.pl
There are many to choose from: personally, we prefer starting with light, refreshing, sour beers before moving onto stronger ones in the evening. It's important to clean the palette from time to time with fruity / acidic beer and to drink water regularly.
Info from warsawinsider.pl
Our festival always sees new trends in the making. This time round we're expecting to see more Gdansk-style Jopen beer (high sugar and high alcohol). More Polish breweries are looking for new spices and ideas from abroad, and we're also anticipating more 'wet hop' beers (that use fresh-off-the vine, unprocessed hops).
Info from warsawinsider.pl
Let us now talk from the point of view of a master hangover specialist! You've got to start working on the cure during the festival by drinking plenty of water and ensuring you've eaten – avoid heavy foods. Take breaks between drinking and give yourselves some time between boozing and going to bed. On the next day, avoid deep-fried or unhealthy foods, instead choose fish or eggs. Vitamin C is key to feeling better and so is… fresh garlic. It really does help one's organism, especially after craft beer. Avoid grapefruit juice and only take aspirin if you really need think you need it.
Info from warsawinsider.pl
Single tickets are valid for any day of the festival
On the Eventim.pl website, single tickets as well as passes are marked with the date when the festival starts. However, you can use them on any day of the festival. A single ticket entitles you to one entry only, with a personal pass you can enter the Festival area any number of times.
If you're mesmerized by such large numbers of exhibitors and beers, we have a remedy – just use the help of Beer Guides. They are beer specialists who draw everyone's attention to themselves with their special T-shirts. They are happy to advise you on what to try and how to get around at the festival.
Where to find a list of beers and exhibitors?
A full list of beers and exhibitors, a map and information which beers are currently available on tap can be all found in our catalog. The system will also provide you with information about food trucks and what they serve. The breweries are putting their info just before the festival, so if you cannot find some information on the site, please be patient.
Can you come to the festival with children or a dog?
Of course! Kids (up to the age of 18) can enter for free. There is only one rule – they must not drink ANY beer for which their guardians are directly responsible. Instead of alcoholic beverages, we recommend water, lemonade and snacks. The festival is also a great opportunity to see the (usually rather inaccessible) VIP zone of the Legia Warsaw Municipal Stadium.
Unfortunately, there are no ATMs at the festival. At the majority of stands (but not all!), you can pay by card. The nearest ATM is about 50 meters from the stadium at Torwar.
In addition to special festival glasses, simple, unprinted Zero Waste glasses for PLN 2.5 will be available at the stands to minimize the amount of plastic cups used.
On the 2nd floor, next to the festival stand, there is a glass exchange point. Anyone who needs a glass can take one from the table, and anyone who does not need a glass can leave it there. You can also bring unnecessary beer glasses from home!
There is a car park for 700 cars at the location and anyone with a valid Festival ticket can enter it. Entrance through Gate No. 1 and 2.
There is a cloakroom on the 1st floor of the VIP zone. It is free of charge and if you are nice enough, the staff will probably let you leave heavy bottles there too, so you don't go around with them during the Festival.
What times does the festival take place and when are the gates and ticket offices open?
We close the gates about 30 minutes before the end of the festival. The festival is open as follows:
Thursday: 16-24
Friday: 12-24
Saturday: 12-24
The ticket office (in Łazienkowska St., opposite Torwar) is open between:
Thursday: 15-23:30
Friday: 11-23:30
Saturday: 11-23:30
Board games, table football, flippers, caps and corn bags
Especially for you, we have prepared a relax zone filled with flippers and arcade games on the 3rd floor. Board games and caps are set up on the 2nd floor.
Glassware and keeping it clean
Festival glasses together with a "kangaroo bag", or other gadgets, can be purchased at the festival stand and from individual beer exhibitors. A small number of 0.1-liter tasting glasses and lots of Zero Waste glasses will also be available. However, please note that the number of glasses is limited. Breweries also often sell their own branded glassware. Glasses can be rinsed with water at the entrances to the grandstand. Most exhibitors also use special glass rinsers before pouring beer.
Meetings and lectures will be held on the Main Stage of the festival (2nd floor). Some of them are performed in English. The exact program can be found on our website. Moreover, there will be educational and culinary meetings, as well as very emotional discussions. Do not miss the most interesting topics! And if you have ideas for what might appear on the festival stage in the future, let us know!
Will there be room to sit?
We have about 2,500 chairs in the VIP area grandstand – we don't know exactly how many ;-). There are plenty of tables and chairs in the VIP area, as well as at the foodtrucks.
Paid trainings and tastings
In addition to open lectures at the festival stage, we have prepared for you paid trainings, which will be conducted by the best specialists in the industry. Some of them are performed in English, you can find the details on the page with the program. Training rooms are located on the 1st floor, between the escalator (near the flipper zone, cloakrooms and toilets).
Official welcome of festival guests
On Thursday at 21 (9 pm), we invite you to join us at the stands of the Legia Warsaw Municipal Stadium for a group picture!
What is the cost of beer at the festival?
Beer prices are set individually by the breweries. Usually, these prices are slightly lower than in Warsaw multitaps and range from PLN 9 to 15 for half a liter, excluding special beers, those aged in barrels and foreign beers. Fortunately, Polish craft beers are one of the cheapest in the world!
At the festival stand (on the 2nd floor), you can buy a few gadgets prepared for the festival. Here you can check the prices:
- Festival glass WFP12 0.3 – PLN 20
- "Zero Waste" glass 0.3 – PLN 2.5
- Elisir – special festival tasting glass 0.1 – PLN 14
- "kangaroo" bag – PLN 9
- cotton bag – PLN 12
- bag for 6 bottles – PLN 20
- festival cap – PLN 45
- water (still / carbonated) – PLN 3
- festival glass with "kangaroo" bag – PLN 27
- T-shirts from the previous edition of the festival – PLN 15
A handful of practical tips
Drink a lot of water. The optimal amount is a couple of sips between each beer sample. Have a drink before going to bed – alcohol can leave you dehydrated.
Don't forget to eat. We absorb alcohol better and irritate the stomach and intestines less if we eat something earlier. And avoid overeating or heavy foods.
Eat garlic, magnesium and vitamin C. Craft beers often have acetaldehyde, a compound that negatively affects our well-being. The most popular natural substance that helps our body to break down this compound is garlic. Vitamin C also improves the body's metabolism and helps break down aldehydes. Aspirin taken before bedtime can also help, but unfortunately it affects badly the stomach.
Talk to people. Although it may not go well with the previous advice (eating garlic 🙂 ), it's worth taking advantage of the presence of brewers, home brewers and other specialists at the Festival. If you don't like something, or it tastes great – tell the brewers. This is one of those special moments when you can address them directly and ask about the production process or aroma details. Many bloggers, beer guides and home brewers can also help you explore the festival and choose breweries. Ask them what are the characteristics of a given beer style, what is cold hopping and how American Wheat is different from German Hefeweizen. Beer specialists are usually very social and talkative, especially after few beers! It is worth making use of their merry attitude.
JOIN THE EVENT ON FACEBOOK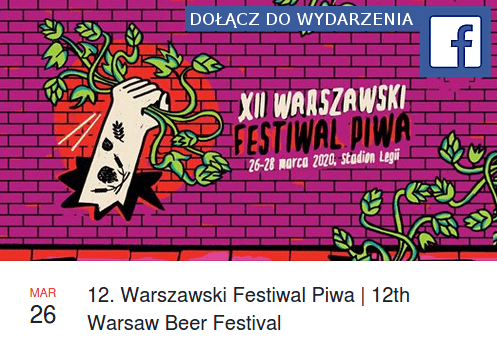 OUR SOCIAL MEDIA (Facebook group in English)